La información sobre eventos permite al lector buscar antecedentes, objetivos e instituciones organizadoras y auspiciadoras de seminarios, reuniones, congresos nacionales e internacionales y sobre el tema central.
Taller del Proyecto Bio-THAW, Biodiversidad, cambio climático a manejo de bofedales alto-andinos.
La Paz, Bolivia. 15 de abril, 2014.
El proyecto BIO-THAW tiene por objetivo modelizar la biodiversidad y las interacciones de uso de los suelos frente a la evolución de la disponibilidad de agua de los glaciares en las zonas húmedas de los Andes tropicales. Se trata de un proyecto transdisciplinario que implica una importante comunidad de investigadores y de actores locales, desde antropólogos, sociólogos, glaciólogos, ecólogos, modeladores, comunidades originarias y campesinas.
| | | |
| --- | --- | --- |
| Más información: Web | Comparte en: | |
---
Adaptation Futures 2014: Tercera Conferencia Internacional de Adaptación al Cambio Climático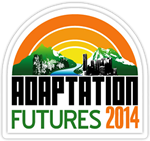 Fortaleza Ceará, Brasil. Mayo 2014.
En esta conferencia, los científicos, expertos y responsables en la toma de decisiones de los países en desarrollo y los países industriales se reunieron para compartir conocimientos sobre cómo afrontar los nuevos retos y discutir respecto las futuras estrategias de acción a nivel local, nacional e internacional. El aspecto central de esta conferencia son las consecuencias del cambio climático y las posibles alternativas de adaptación. En este sentido, se presentaron los enfoques de investigación, métodos y resultados de diferentes científicos.
| | | |
| --- | --- | --- |
| Más información: Web | Comparte en: | |
---
3rd International Conference on Climate Change & Social Issues. CCSI 2014.

Colombo, Sri Lanka. 30Julio- 01 Agosto 2014.
Welcome to the 3rd International Conference on Climate Change & Social Issues. CCSI 2014 offers a valuable opportunity to network with colleagues from many countries who share the same goals. Session themes for the conference cover a rich and diverse range of research topics. We hope these sessions will bring researchers from across the globe together to discuss broad questions of common interest and provide a platform to establish relationships with new colleagues. You will be enlightened with innovative ideas and solutions at CCSI 2014 and take initiatives to forge better solutions to reduce future risks and threats of climate change and social issues.
| | | |
| --- | --- | --- |
| Más información: Web | Comparte en: | |
---
2º Congreso de Ingeniería para el Cambio Climático - COPIME 2014.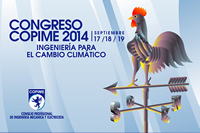 Argentina. Septiembre 2014.
Buscamos en conjunto crear un ámbito nacional, donde puedan promoverse, exponerse y difundirse todas aquellas manifestaciones de la ingeniería aplicadas a controlar, reducir o minimizar los efectos del Cambio Climático.
| | | |
| --- | --- | --- |
| Más información: Web | Comparte en: | |
---
El Cuarto Congreso Nacional de Investigación en Cambio Climático.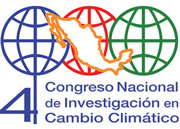 México. 20-24 Octubre.
A investigadores de todas las Universidades del país, miembros de las organizaciones de la sociedad civil, del sector empresarial, las entidades gubernamentales y estudiantes de educación media superior, superior y posgrado a participar en El Cuarto Congreso Nacional de Investigación en Cambio Climático que se realizará del 20 al 24 de octubre de 2014 en seis sedes regionales y dos sedes temáticas que sesionarán de manera paralela y coordinada a nivel nacional.
| | | |
| --- | --- | --- |
| Más información: Web | Comparte en: | |
---
Deltas in Times of Climate Change II. International Conference. Rotterdam

Holanda. 24-26 Septiembre 2014.
Deltas in Times of Climate Change II is hosted by the Dutch Research Programme Knowledge for Climate, the City of Rotterdam, the Ministry of Infrastructure and the Environment and the Ministry of Foreign Affairs.
| | | |
| --- | --- | --- |
| Más información: Web | Comparte en: | |
---
Congreso Mundial Juvenil sobre Cambio Climático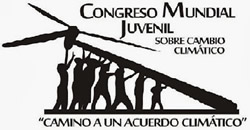 s
Perú 2014.
El Congreso Mundial Juvenil sobre Cambio Climático forma parte de las Conferencias Mundiales Juveniles sobre el Clima WYCC, primer evento dedicado a escuchar los puntos de vista y las preocupaciones de los jóvenes, reagrupando sus voces desde diferentes partes del mundo para realizar una declaración unísona.
| | | |
| --- | --- | --- |
| Más información: Web | Comparte en: | |
---
La Conferencia de las Partes de Naciones Unidas (COP20).

Perú. Diciembre 2014.
La Convención Marco de las Naciones Unidas sobre el Cambio Climático (CMNUCC o UNFCCC por sus siglas en inglés) entró en vigor en 1994,con el objetivo de reducir las concentraciones de gases de efecto invernadero (GEI) en la atmósfera. La Conferencia de las Partes (COP por sus siglas en inglés) fue designada como el órgano supremo de la Convención.
| | | |
| --- | --- | --- |
| Más información: Web | Comparte en: | |
---
Behavior, Energy, and Climate Change Conference.

Washington, DC. 7-10 Diciembre 2014.
The BECC Conference is convened by the American Council for an Energy Efficient Economy (ACEEE), California Institute for Energy and Environment (CIEE), University of California, and Precourt Energy Efficiency Center (PEEC), Stanford University.
| | | |
| --- | --- | --- |
| Más información: Web | Comparte en: | |
---
Seventh International Conference on Climate: Impacts and Responses.

Vancouver, Canada. 10-11 Abril 2015
The Climate Change Conference is for any person with an interest in, and concern for, scientific, policy and strategic perspectives in climate change. It will address a range of critically important themes relating to the vexing question of climate change. Plenary speakers will include some of the world's leading thinkers in the fields of climatology and environmental science, as well as numerous paper, workshop and colloquium presentations by researchers and practitioners.
| | | |
| --- | --- | --- |
| Más información: Web | Comparte en: | |
---
S3ET International Conference: Small-Scale Societies and Environmental Transformations: a Co-Evolutionary Dynamics

Barcelona (Spain) 14-18 December 2014
The aim of this International Conference, is to explore co-evolutionary dynamics in cultural evolution and in culture-environment interactions in small-scale societies both pre-industrial (through archaeological case studies) and contemporary (through anthropological investigations). We will specially focus on the interplay between cultural practices and environmental transformations.

While the scale of human impact on the environment might change, scientific agreement is now growing on the fact that changes operated by small-scale societies on their environments have played a major role in human adaptation and variation through co-evolutionary processes. The definition of a new geological period, the Anthropocene, has recently been proposed to mark a period characterized by human activities that have had a significant impact on the Earth's ecosystems, producing sufficient evidence to be detected on a global scale. While a conservative hypothesis considers the Anthropocene to start with the Industrial Revolution, archaeological evidence increasingly suggests that the beginning of the Anthropocene should be set with the development of semi-sedentary cultures and/or farming, if not earlier.

The idea that small-scale societies co-evolve with their surrounding environments is also supported by current research in ethnoecology which suggests that biological and cultural diversity are interrelated within complex socio-ecological adaptive systems. The co-occurrence of high levels of biological and cultural diversity (mainly with small-scale societies) in certain geographic areas, specifically those at low latitudes, high altitudes, and with high rainfall and high temperatures, has been interpreted as the result of the co-evolution of cultural and biological diversity.

This event will merge concepts and methods from environmental archaeology and ethnoecology to explore the co-evolutionary dynamics between past and present small-scale societies and their environments and the effect these interactions have had at a larger scale, both geographically and chronologically.
| | | |
| --- | --- | --- |
| Más información: Web | Comparte en: | |